architectural services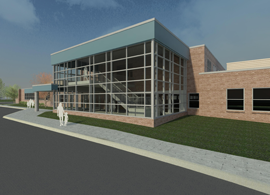 Dramatic and Exciting. Functional and Affordable
TMG is dedicated to designing facilities and structures that reflect a creative balance between human needs and physical requirements that are cost effective and compatible with the environment.
Our history of success is rooted in our committment to collaboration. Understanding your organization, your specific goals, and the needs of your end user is critical to achieving true success. We encourage a continupus exchange of ideas and remain open to solving problems together to foster creativity and innovation that guarantees design excellence and client satisfaction.
This intense partnership ensures our ability to deliver relevant and responsible environments to meet all of your needs.
Comprehensive architectural services include:
Project administration and management services
Evaluation and planning
Design
Bidding and negotiation
Construction contract administration
Facility management and administration services