about us
the firm
Our History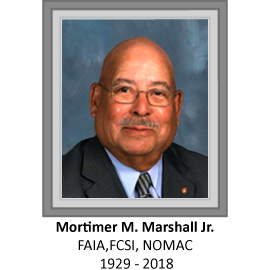 The Marshall Group (TMG) was founded in 1983 by Mortimer M. Marshall Jr after a successful 32 year career in the Federal Government.

Marshall retired from the Federal Government as Director of Design and Construction for the U.S. Department of Defense. In that role, he was responsible for the development and implementation of all design criteria, policies and construction standards used in the Department of Defense's annual, multi-billion-dollar, worldwide design and construction program.

For 35 years, Marshall lead TMG with compassion for the profession, dedication to making a difference in the built environment and commitment to providing mentoring and championing the rights of those underrepresented in the profession. He was a leader in the built community and mentored and inspired a generation of architects. Under his leadership, TMG commsions ranged from small renovations to multi-million dollar new construction.
team TMG
Our Future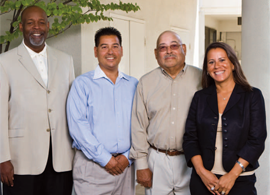 Our core partners and associates, who have been together for over 30 years, remain guided by the same principles that Marshall championed: Improving people's lives, exciting and investing in communities, and enhancing environments through comprehensive architecture, interior and construction services.

Over the years, TMG has developed a reputation as a small firm that provides big service. That is because we offer a unique approach to solving clients' challenges that is based on personalized attention and responsiveness. Fundamental to our philosophy of design excellence is the active participation of the client and our principals throughout the process. We are committed to satisfying the needs our clients, not our egos.

Our professionals are licensed in architecture, general contracting and interior design and are strengthened by strategic alliances in order to bring an integrated approach to meet all of our clients' unique needs. Due diligence. Innovative design. Technical excellence. Years of experience. It all adds up to a genuine partnership that is rare and rewarding.
Certifications
Women Owned SDB
MDOT- MBE 07-358
VA- SWaM Certification #0050302
Team Member Resumes
Education:
Bachelor of Architecture, Howard University, District of Columbia
Registration:
Architect- District of Columbia/Virginia/Delaware/Maryland
NCARB Certified
Education:
B.A. Architectural Science/Tuskegee University
Master of Architecture//Tuskegee University
Registration:
Architect, Georgia/Virginia
NCARB Certified
Education:
Howard University, District of Columbia/B.A./Architecture
Registration:
Architect- Virginia / District of Columbia
District of Columbia Architect
Virginia Contractors License, Class A
Maryland Contractors License, Class A
DC Home Improvement License
NCARB Certified
Education:
Bachelors Business Administration/Shenendoah University